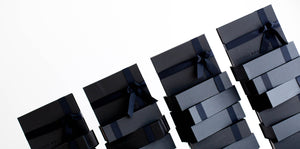 Here are answers to some commonly asked questions
Our products and services
Drop us a line at hello@giftboxboutique.co.nz and we can discuss customisation options. We are happy to work with you to design something that's a perfect fit!
Yes absolutely! You can download our order form here. Please complete the form then email it through to us at hello@giftboxboutique.co.nz and we'll make it easy for you to check out and pay for all of your boxes in one easy step!
Of course! We have a white message card that we include at no extra charge. Just enter your message in the gift message box on the product page before you check out. Or for something a bit more special, you can purchase one of our beautiful gift cards and envelopes.
None of our products are super perishable, however there are a few items like chocolate which don't love the heat. We also manage our stock to ensure that we never send any products with less than one month left until the best before date, so they will always arrive fresh and ready to eat.
Bulk orders and corporate
Yes we do! You can find out some information about our corporate gifting here- either drop us an email at hello@giftboxboutique.co.nz or give us a call on 0800 GIFTBOX (0800 443 8269) to talk through your requirements.
We can offer some discounts for larger orders. Please get in touch by email (hello@giftboxboutique.co.nz) and let us know the quantity of gifts (and also which particular gift boxes) you would like to purchase, and we can let you know if you qualify for a bulk discount.
Yes, it is! We can help you design a box as small or large as your event requires. Get in touch by emailing hello@giftboxboutique.co.nz or calling 0800 GIFTBOX (0800 443 8269).
Don't worry, we never include any receipts, invoices or packaging slips in any of the packages that we send out!
While we can't guarantee delivery on a certain date, the courier company will do their absolute best! Just keep in mind the minimum time frames for delivery to each region but regardless, you can select a preferred delivery date at checkout, or contact us and we will see what we can do for you.
Please note that couriers only work standard business hours and normal deliveries are not made on the weekend. If you require a Saturday delivery, you can select this option at the checkout. We are also prevented from delivering alcohol on Good Friday, Easter Sunday, Christmas Day, or before 1pm on Anzac Day.
Yes, as soon as the courier collects your gift box, we automatically send an email with your tracking number to the email address you supply. If for some reason you don't receive it, or you delete the email, please get in touch by emailing hello@giftboxboutique.co.nz
We would firstly advise that you check the delivery tracking email sent through when the item was collected by the courier. If that doesn't provide you with sufficient information, please get in touch by emailing hello@giftboxboutique.co.nz and we would be happy to help you!
Jump on over to our delivery page for information about our delivery options, charges, and time frames, or get in touch for any specific questions.
Due to the nature of our gift boxes, all parcels are sent standard with a 'signature required'. This means that someone must be home to sign for the parcel. If no one is home, the courier will leave a card to call to let the receiver know they have missed a parcel. They can use this card to get the parcel redelivered or redirected at a convenient time.
If you would prefer to give the courier authority to leave the parcel without a signature, simply tick the 'No Signature Required' box at check out, and include instructions on where you would like the courier to leave the gift in the 'Special Delivery Instructions' box. By giving the authority to leave the item, you agree to take full responsibility for the parcel once it has been delivered as the gift will be left unattended. Giftbox Boutique isn't responsible for what happens to the gift box after the courier has delivered the item.
No, sorry. But we can deliver boxes to you and you can ship them internationally!
Please let us know as soon as possible if your order has arrived damaged - we will do everything that we can to resolve the situation.
Use our contact form or send us an email at hello@giftboxboutique.co.nz. You can also call us on 0800 GIFTBOX (0800 443 8269), or 09 869 6116
No worries, just reply to the confirmation email we sent you and we'll get in touch with you right away to help out. Or if you lost that email, you can reach us at hello@giftboxboutique.co.nz
You can choose to pay by Visa, Mastercard or AMEX credit cards, Paypal, LayBuy, Zip, AfterPay or as a direct debit into our bank account (bank deposit for NZ customers only). Simply select "Bank Deposit" as the payment method at checkout, and our bank account details will be provided to you. Make sure you enter your order number as the reference when you make the bank deposit. Once your payment has been received into our account, we will process and dispatch your order.

Please note that bank deposits may take a few days to clear into our account and orders will only be processed once funds have been received and the Bank Deposit option is unavailable in December. If you have any problems with payment, or would rather we take your payment over the phone, please just get in touch.
Absolutely. We use Shopify Payments by Stripe which is a reputable payment gateway provider used by most websites around the world. Stripe is PCI compliant which mean that they use best industry practices to keep your credit card details safe, and they don't store your credit card details after your payment has been processed. We never see or store your credit card details when you place an order with us.
Do us a favour and double check that you have entered all of your details correctly (and that those shoes you bought haven't pushed you over your card limit!). If that's all good, then give us a call on 0800 GIFTBOX (0800 443 8269) and we will try to sort it out for you.
We never share your name, email, or contact information with anyone - ever! If you sign up for the Giftbox Boutique newsletter, you can opt out at any time. When you place an order, you have the option of whether or not to sign up for our newsletter - but you certainly don't have to. If you want to see what we're up to without getting emails from us, we recommend you follow us on Facebook or check out our blog. Our privacy policy can be viewed on our checkout page.
Sorry, we are an online only business and do not allow pick-ups (our liquor licence also prohibits this).
Awesome! We are always on the lookout for exciting new products to offer our customers, and we would love to hear from you. Please use our contact form to get in touch.