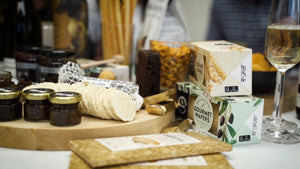 The Giftbox Boutique Story
WATCH OUR VIDEO TO GET TO KNOW US
Giftbox Boutique is an online gifting studio dedicated to offering a collection of modern and memorable gifts. Think of us as your personal gift-gathering service, pulling together swoon-worthy gifts that you will be proud to give.

Behind our studio is a gift-obsessed team taking care of every little detail so you don't have to. We're carefully piecing together beautiful curated gifts, client gifts and corporate gifts for every occasion.
Let us be your elevated alternative to traditional gift baskets!
Our Story
With a background in Marketing for luxury brands like L'Oréal and ECOYA, I noticed a huge gap in the market for well-designed, beautifully presented gifts.

Whether gifting to business clients or close friends, I was time poor and frustrated by the lack of choice online. Traipsing the retail floors was not a luxury I had, but online I discovered some lacklustre options – think a random selection of old-fashioned food items, or gift baskets primped and gussied up with too much colour, curling ribbon and cellophane (helllllooo 80s!). Nothing simple, stylish and modern.

Giftbox Boutique was born from a desire to gift beautifully – from an unexpected 'thank you, I appreciate you' to an extravagant 'happy birthday' and everything in between. Our philosophy is simple – dish out curated goodies via a crisp new website, custom-made packaging, and a huge selection of modern and stylish choices. I am so proud of the result.

Backing up our vision is a team dedicated to exceptional customer service, and we promise to make your gift giving experience a joyful one. Each gift box is packed with love, and our team is always here to answer any queries that you may have.

We can't wait to make your gifting dreams come true.

Happy gifting! Katie, Andy and the Giftbox Boutique team.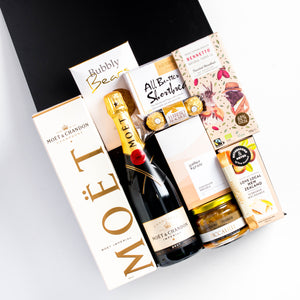 Do you remember the gift you got 100% right, generating a squeal of delight from the recipient? We all want to hit the right mark, but it's tricky finding time to seek out the best options. We exist to make gift giving easy, with a healthy dose of wow-factor too.
A memorable gift should start from the outside, setting the scene for all the goodness within! From the packaging and presentation, to the products inside, we believe a gift should evoke a happy-dance from your recipient. So we've done the leg work for you, gathering a range of gifts that are unique and delicious. We call it everyday luxury – keeping it affordable, while earning yourself some major brownie points.
But don't let the fancy website fool you. We are still a small business that carefully prepares each order ourselves right down to the hand-tied bow.
We look forward to creating something you'll be over-the-moon excited to give.
What we offer
We know the brands you love, because we love them too! Partnering with a range of New Zealand and overseas producers, our gift baskets feature a hand-picked selection of the best products available. Our benchmark? It must taste, feel or smell irresistible! We like to go a step further and throw in a surprise along the way, so expect some delightful wild-card products too.

All of these exquisite goodies are presented in our signature packaging, a custom-made gift box, finished with a beautiful ribbon. It's our gift to you - modern and stylish with no cane baskets, curling ribbon or cellophane in sight!

We combine this with the best experience, from hand-tied bows, to customised gift choices, shipped to every inch of the country. Gifts by the ones, tens, or hundreds - designed, packed and dispatched by a team who care. Happy gifting!